(Disclaimer: Since I share companies I love with you, my blog(s) may naturally contain affiliate links. Meaning, when you use my links and purchase something, I earn a small commission at no extra cost to you. You're just doing a good deed and allowing me to continue providing free information to you! It's a win, win, and benefits us both! However, don't worry! Everything I promote aligns with my vision, beliefs, and values. I will never promote products I don't personally use – and love.) 
Welcome to the most fun event of the year! 
Views, Blues, & Booze!
What used to be Pensacola's crazy little gem is becoming seemingly way more popular over the last few years.
I went to college in Pensacola, Florida, and stumbled upon the Blue Angels Show back in 2015.
Needless to say, this event reminded me of why I went to college at the beach in the first place!
What is The Blue Angels Airshow?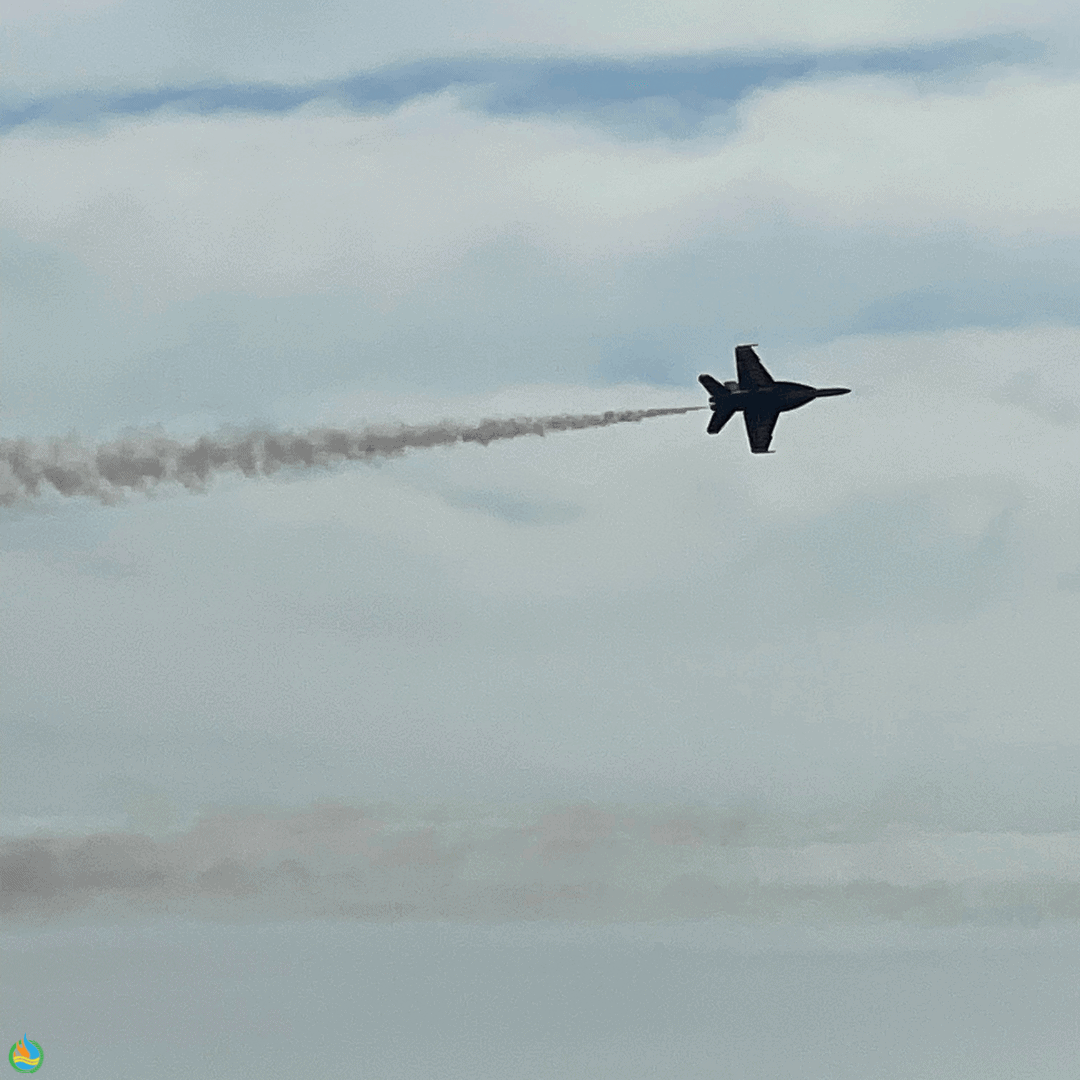 First, let me take a second to appreciate all our men and women out there! God Bless America!! #MERICA
The U.S. Navy Blue Angels is a flight expedition team established in 1946. This aerobatic team flies all over the United States throughout the year and performs one of the largest events known in Pensacola, Florida – The Blue Angels Airshow!
You can read more about the history of the Blue Angels here!
This July 2021 was The Blue Angels Airshow's 75th Anniversary.
It was by far the most insane show that I've ever been to in the past seven years!
Every summer, people line up along the beach and bay to watch the Blue Angels perform a spectacular airshow.
When I say people, I mean the entire island brings in thousands of visitors throughout the weekend, especially the night leading up to the main event.
It's definitely a sight to see; people even begin to set up tents and cabanas along the beach at all hours of the morning, or should I say night?
This year I arrived around 5:30 am, and the entire main parking lot under Pensacola's famous beach ball was almost full.
It seems like every year, more and more people migrate out onto the beach earlier than the year before.
I guess it's necessary in this case that the early bird gets the worm to get a good spot and find parking on show day.
Back in college, my friends and I would be the ones coming out to the beach around 2 or 3 am to set up for the airshow and start pregaming for the day ahead of us.
This year there was a large group of people with an entire kitchen out on the beach cooking pancakes, bacon, and eggs.
I'm telling you, this weekend is no joke – plan ahead and come prepared.
If you're one of the many early comers, it's safe to say you'll be hammered by the time the Blue Angels fly (which was around two in the afternoon this year).
Don't get it confused, though; this is not only a day event; it's an entire weekend.
The Blue Angels fly along the beach throughout the week, starting on Thursday, and perform a practice show Friday, the day before the main airshow!
I mean, you can only attend the main airshow on Saturday (as many do), but why miss the Blue Angels practice show?
Go big or go home, am I right?!
Either way, the entire week/weekend is packed; as I said, this is a massive event on Pensacola Beach.
You can usually catch a glimpse of the Blue Angels flying along the beach the week before and after the actual airshow, but it doesn't compare to the actual show itself; however, this may be a better option for you if you're not into crowds.
If crowds aren't your thing, I would still suggest getting a room with a view of the bay/ocean to hang out at during the show; I don't think you're going to want to miss the action (who knows, I could be wrong, but I wouldn't want to miss it).
I also want to clarify that even if you don't drink (I rarely do anymore), this is still a dope event to attend; it's easy to have a good time without alcohol.
Either way, you'll be entertained by the many people drinking around you.
The exact dates of the airshow vary from year to year, as well as the times, so to stay up to date and be sure to check out the Blue Angels schedule here!
Okay, so you have two options of watching the Blue Angels Airshow Pensacola: on land or an on a boat. Whichever you decide, you're going to want to make sure you take everything you need with you for the day, and then some.
On land.
You can choose to hang out and set up on the oceanside or bayside – both are great!
Oceanside vs. Bayside:

Oceanside

If you choose to set up on the ocean side, you're going to want to BYOB, food, snacks, etc.; although you can still grab food and drinks at Crabs or the pier, it's going to be packed so expect to wait.
This year I decided to set up on the ocean side. I arrived early enough to squeeze into a spot in the second row away from the ocean.
I was also lucky that I was surrounded by an awesome group of people this year and we hung out the entire day.
Also, consider that while the Blue Angels are performing, you cannot be in the ocean. Sometimes this is a downside considering how hot it is in July.
There are people everywhere, but if I had to categorize it, I would say oceanside has various mixed-age groups (families, kids, couples, large groups, people of all ages).
Bayside

If you choose to set up on the bayside, I would still recommend BYOB, but there are many options that are more accessible for food and drinks.
The water is much calmer, there's tons of music, and it's easy to mingle with the hundreds of boats anchored to each other.
An upside of the bay is that you can swim and be in the water throughout the entire airshow, which is extremely refreshing since it's always so hot.
There are mixed-aged groups on the bayside, but this is party central, full of adults and college kids.
On a boat.
You can anchor on either the oceanside or bayside; however, here are some things to consider:
Oceanside vs. Bayside:

Oceanside

If you choose to anchor in the ocean, the water is much rougher, and you will not be able to access land as you have to be anchored past the pier (I have never chosen this option, but that may be your thing, and I wanted to give you a choice to decide for yourself!)
Bayside

Bayside is your best bet if you have a boat, plan on bringing it, and are comfortable and confident maneuvering it through other boats.
You can join the hundreds, even thousands of boats that anchor on the bay tied up and surrounded by each other.
A great way to meet people and ensure you're going to have one hell of a time.
Easily access all of the bars on the bay, as most of them, you can walk up and grab a drink or order food to go to bring back to your boat.
Although the Blue Angels fly across most of Pensacola's Beach, you'll get the best experience and view of the show by setting up in the middle of all the action.
A few land markers to look for and set up near are:
The Pier/Casino Beach Bar
Crabs On The Beach
Flounder's Chowder House
Sneaky Tiki Bar
Quietwater Beach
The Boardwalk
Bamboo Willies
Getting Around + Parking/Traffic
From my experience over the years, you will probably not want to be driving a majority of the weekend as the traffic getting onto the island is insane.
There are many cops on the roads, and it's not worth a DUI (assuming you'll be drinking as a majority are, and if not, the traffic is a valid reason not to want to be driving).
I feel like there are many attempts to contain the parking situation, but I'll be honest, no one gives a damn; people park wherever they want.
Once you see how many people there are, it's almost impossible to avoid cars parked alongside the road and in "no parking" areas; however, I still try to refrain from parking in unmarked areas.
I'd rather be safe than sorry and not waste money on a parking ticket or get towed; thats one hell of a way to end the trip, lol.
If you get there early enough (usually no later than 6 am), you will be lucky to find parking at Crabs or across the street at the Pensacola Beach Boardwalk, near Quietwater Beach. These areas have the two largest (free) parking lots.
If not, plan B is to find parking within walking distance, but you're probably going to pay (unless there are still some free spots available).
Some lots cost $40 – $50 for the day; although this year, I found a place to pay by the hour, which ended up costing me about $25 for 8 hours (this was on the Blue Angels Practice Show day, so to be safe I would still recommend getting onto the island as early as possible)!
Your best bet is to find a place to stay on Pensacola Beach and take the free trolley.
You can check out the trolley schedule here (it varies during the Blues, so again, stay up to date with everything and double-check the website).
Another option is to find a place to stay within walking/biking distance from the main part of the strip.
You can also rent golf carts, bikes, or scooters on Pensacola Beach that are easier to maneuver around the island; however, be prepared to pay as much for a golf cart as you would a rental car.
Where To Stay For The Blue Angels Airshow Pensacola
During Blue Angels weekend, I would 10/10 recommend staying on Pensacola Beach.
However, you will need to book in advance as this weekend always gets completely booked out, and if you wait until the last minute, you will find yourself in a few different scenarios: 1. You will spend a fortune per night for a place on the island, 2. There will be no places available on the beach to stay, 3. You will have to find a place in Gulf Breeze or Pensacola and wait in hours of traffic to get over the bridge, or 4. You will have to fight or pay a fortune for parking.
I used to live on Pensacola Beach, so finding a place to stay was easy and convenient (I didn't even have to leave my condo, I could watch the Blue Angels from my balcony), but ever since I graduated college, I've been on the hunt to find different places to check out and stay at whenever I visit!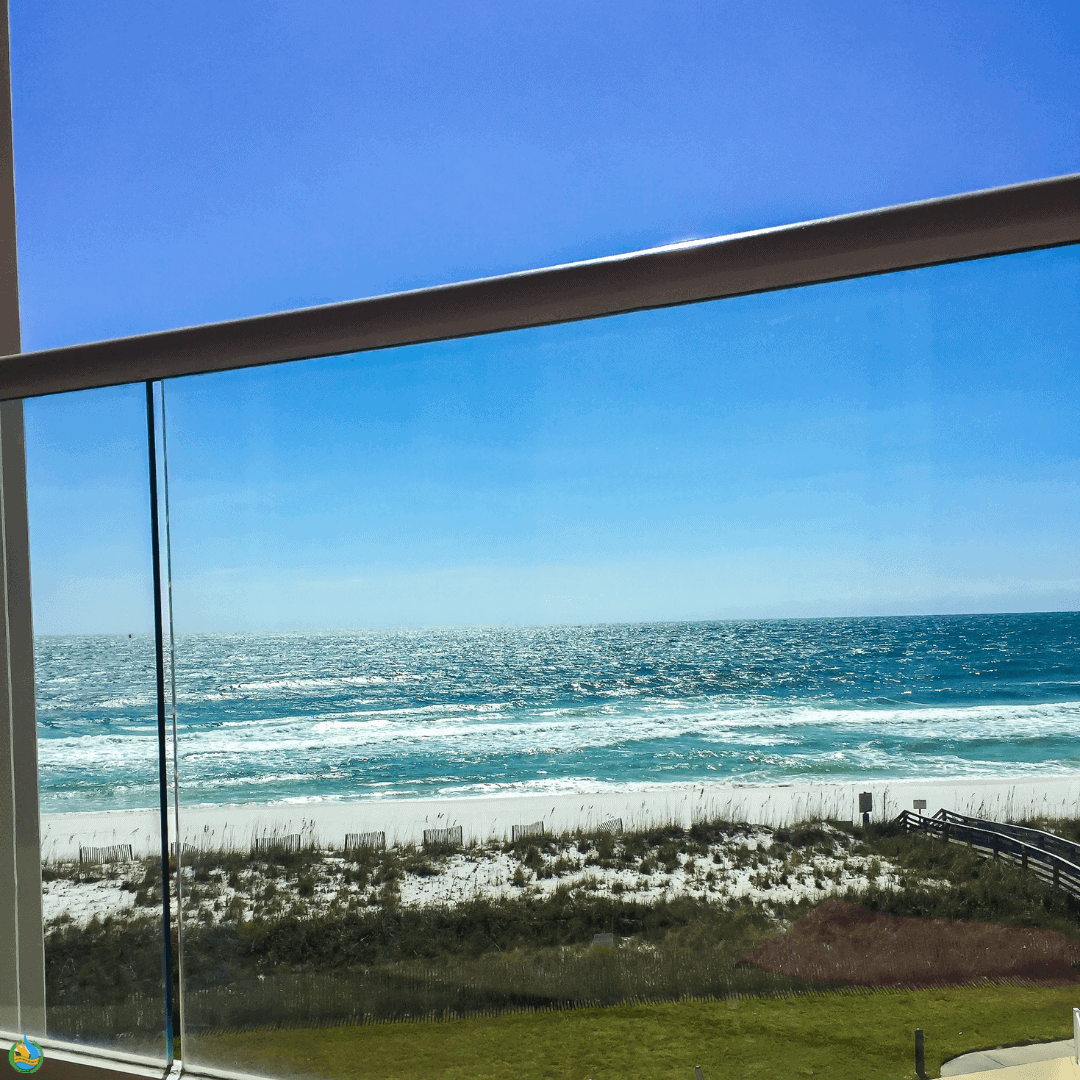 Choosing a hotel on the bayside or the oceanside depends on your preference.
The bayside is much calmer and more peaceful. However, most of the bars and restaurants on this side are in the middle of the action, and you'll have to choose a place within walking, biking, or driving distance.
There are many more oceanfront options close to the action if you prefer to walk rather than drive or take the trolley.
One of my favorite places to stay on Pensacola Beach is Portofino Island Resort; it is gorgeous at the far end of the strip. If you can spare some change, this is one of the most luxurious resorts on the island that offers a ton of amenities. Portifino is on the bayside of the island, but you can have spectacular views of both the sound and ocean, depending on your room.
Portifino Island Resort

Luxury resort.
Privately owned rentals; pricey but beautiful.
Large condos; the 5th floor has huge, extended balconies if you have a larger group or want more room.
Onsite restaurants, pools and hot tubs, rentals, a fitness center, tennis courts, parking garage, and even a water obstacle course (assuming it's for kids, but it's one of my favorite things about this place – I always play on it), + a ton more!
You will need a vehicle or golf cart to get around; check out the trolley schedule as that's also an option.
Approximately 4 miles from all of the action.
Regency Towers

This is where I used to live, and they offer vacation rentals.
Beachfront condos.
A little closer to all the action than Portifino and is on the oceanside.
It has an onsite fitness center, tennis court, and pool.
You will need a vehicle or golf cart to get around; check out the trolley schedule as that's also an option.
Approximately 3 miles from all of the action.
Before I dive in on all my favorite restaurants and bars, there's this cool event held every Tuesday at 7 pm (April-October) on Pensacola Beach called Bands on the Beach.
Grab your blanket, lawn chairs, drinks, and your favorite people for live music right on the beach while the sun sets.
It's a local hangout spot that my family and I enjoy going to on the stage right in front of the beachball!
I would check it out; it's a great time!
Otherwise, here are a few of my favorite restaurants and bars in the area; however, it's not limited to the many others around that you may enjoy!
Food:
If you feel like venturing off the island:
Drinks:
If you feel like venturing off the island:
There is no grocery store on the island, so you're going to want to grab your groceries right over the bridge in Gulf Breeze; there's a Publix right with a liquor store as well.
Although there are a couple of liquor stores on Pensacola Beach, you can imagine how pricey they are; I would also recommend getting your alcohol before heading over the bridge.
Every time you go onto Pensacola Beach, there is a toll you will be required to pay (It's only a dollar, but if you're coming and going over the bridge, it'll add up; plus, you're going to want to avoid the traffic as much as you can, trust me). If you live in Florida and have a SunPass, definitely utilize it here!
The only exception to paying a toll is coming to Pensacola Beach from the far side of the island connected to Destin or Navarre, Florida. It's about an hour away, and I wouldn't suggest this option unless you're coming from that direction already or just want to enjoy a scenic ride along the water.
Here are some things, in addition, you might want to bring along for your trip:
Cooler (preferably on wheels)
Towels
Chairs
Umbrella
Sunscreen
Floats, tubes, rafts
Booze
Kong is also a great item to bring along – it's a koozie + beer bong all-in-one! There are two versions: One for regular-sized cans, like beers, and a tall-sized one for all the basic b*tches with white claws.
BulziBucket – I bring this game everywhere; it's the equivalent of cornhole and beer pong. I met two groups of people that ordered it after playing with me during the Blue Angels show. It comes with a convenient carrying case/backpack, making it easy to pack up, store, or get it around.
I hope this blog helps you plan your trip accordingly and prepares you for what to expect leading up to the Blue Angels Show! You're going to have one hell of a time! Be safe & I hope to see you there!
If you have any questions at all, feel free to drop me a comment below!