(Disclaimer: Since I share companies I love with you, my blog(s) may naturally contain affiliate links. Meaning, when you use my links and purchase something, I earn a small commission at no extra cost to you. You're just doing a good deed and allowing me to continue providing free information to you! It's a win, win, and benefits us both! However, don't worry! Everything I promote aligns with my vision, beliefs, and values. I will never promote products I don't personally use – and love.) 
Cape Lookout National Seashore
Looking for an island escape that won't break the bank?
Start packing your bags now for Cape Lookout National Seashore.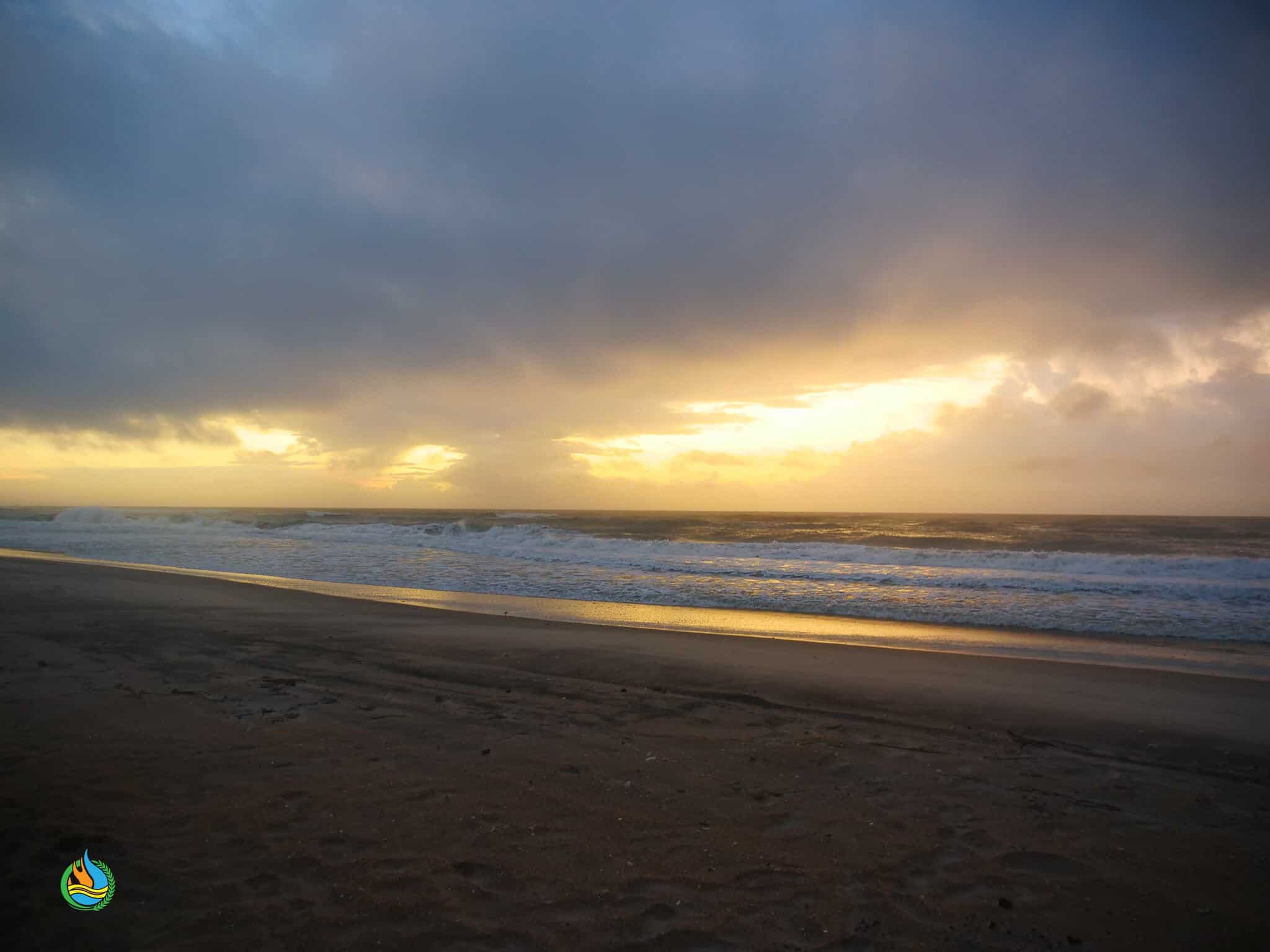 I began my journey in Charlotte, NC, driving 6 hours throughout the night to catch the early ferry in the morning.
The last hour of my drive to the ferry was insane! It was storming, and both sides of the Outer Banks Scenic Byway were flooded entirely; it looked like I was driving on a road right in the middle of the ocean.
I arrived at the Davis Shore Ferry dock around 4:30 a.m.
All I could see were the rough waves crashing into the dock from the little bit of street light in the parking lot, right before laying my seat back in the car and closing my eyes to get some rest.
I woke up around 6 a.m. with it still pouring outside. There was a large group of people who had just arrived, along with a few other couples.
I had no idea where I was, so I asked around and made some friends who had been to the island several times and LOVED it.
I checked into the ferry office at 7 am (the small building located across the street from the "Bait & Ice" shop where you can purchase some last-minute items before heading to the island).
A woman in the office provided a map of the island and a Tide Chart that I could refer back to throughout my stay if needed (which it was).
I also received a form with the ferry's daily schedule, so it was easy to board the ferry when returning to the mainland! – Here's a variety of different maps to help you get around.
Where: Cape Lookout Rd, Harkers Island, NC 28531
Coordinates: Latitude, 34.6227° N, Longitude, 76.5246° W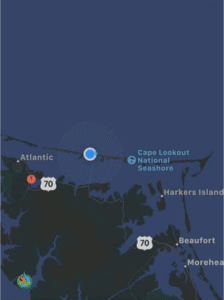 Cape Lookout National Seashore is a hidden gem a few miles off the coast of North Carolina.
This National Park is situated in a larger group of barrier islands that stretch 56 miles across the Southern Outer Banks/Crystal Coast.
One of the unique things about this seashore is the transportation to and on the island.
Cape Lookout is only accessible by water; meaning, you may choose to use your boat or take one of the privately-owned ferries over to the island.
A few ferry companies (See Destination List) will take you on the roughly 3-mile trek to the island.
Again don't worry; it won't break the bank!
The National Park limits visitors to 14 days on the island (before having to pay again).
There are three different ferry options, including small and large passenger ferries and vehicle ferries that sail out from various locations along the coast.
Vehicle ferries can even transport your RV/camper (depending on size) to the island for your stay!
There are no maintained roads on the island, so you will want to make sure your vehicle is a 4×4!
Suppose you're not bringing your vehicle, no worries! There is also a beach shuttle to transport you around the island; plus, the ferry companies provide free parking on the mainland to store your vehicle while you're on your island vacation!
However, if you decide to bring your vehicle, you will need to purchase an ORV Beach Driving Permit online BEFORE arriving on the island.
This permit replaces the original ORV Certification (which was required when I went) and, unfortunately, is no longer free.
The ORV Beach Driving Permit is $25.
Luckily, it's an annual pass applicable to drive on all of the National Park's islands – I recommend taking advantage of this pass (if you can) and island hopping around the area throughout the year!
TIPS: Don't forget to let the air out of your tires before arriving on the island and add air back into your tires once arriving back on the mainland!
Also, make sure to check out the 10 Must-Have Camping Essentials BEFORE your adventure!
DISCLAIMER: All prices listed throughout this blog are based on how much I was charged at the time of my trip – as I go back to the islands, I will make any changes to pricing if need be. Please check the ferry companies for updated pricing before your visit, so you know all fees and prices!
I chose to use the Davis Shore Ferry Service.
Depending on where you depart from, you can have a 2-week beach vacation on an island for around $100 (vehicle included +/- the cost per person; I had a party of 2)!
Rain or shine, the ferries are open, so prepare for any weather conditions because my ride over to the island was a wet one!
I was one of the last vehicles to board the ferry. I loaded up my Jeep along with two other vehicles (the number of cars that can fit on each ferry depends on the size of each vehicle) and headed for the island! (If you are not taking a vehicle to the island, you will take a Passenger Ferry).
I was dumbfounded by the number of people and cars packed onto this ferry.
To ease your mind, these private owners of the ferries know what they're doing; this isn't their first rodeo.
The operators are so laid back and chill; it's a refreshing environment.
Crack open a cold one for the ride, get out of your vehicle, walk around, enjoy the view, roll down your windows, or lay your seatback and enjoy the breeze!
If you're lucky, on your ferry ride to the island, you will catch a glimpse of over 100 wild horses that roam the Shackleford Banks (the southernmost barrier island in Cape Lookout National Seashore).
TIPS: If you want to see the horses from the island, make sure to bring a pair of binoculars along!
Approximately 15-20 minutes later, I arrived at the Ferry Dock (underlined below, in red) on the island.
This slice of paradise is by far my favorite place to visit for a few reasons:
Sweet Escape – The island is secluded, quiet, & peaceful. There are little to no people (for miles, depending on where you go); it feels like your own private island.
The Views – Nothing but beach, ocean, and dunes for miles!
Off-Grid – Bring your tent, camper, or rent out a cabin (community bathrooms and showers).
No Wifi – Unplug & unwind! Get away from the hustle & bustle of everyday life.
Beach Fires – Open fires on a cool night with the ocean breeze and waves crashing in the background; you can't do this at many public beaches.
The Cost – By far, the cheapest vaycay I've ever been on aside from backpacking in the wilderness.
Off-Road Beach Driving – It might be a jeep thing #jeeplife, but I love it.
The unique experience of taking your vehicle on a ferry to a freaking island!!!
I unloaded my jeep from the ferry and took off on my adventure!
Like most of my adventures, I planned this trip spontaneously.
Keyword: "PLAN" – You will need to make a reservation with the ferry company in advance if you are bringing a vehicle; spots do get booked quickly!
I got lucky that they had one spot available for a vehicle when I called (which was the same day I decided to head there)!
My first encounter was passing through the Great Island Cabin Camp area. You can rent tiny cabins for about $100+/night.
If you're thinking about staying at Cape Lookout National Seashore, you can check out your sleeping and eating arrangements here!
Be sure to use the community bathrooms available here, as the only other restrooms are located a few miles away, near the lighthouse/boardwalk and the point of the island.
I continued along the sandy path until I approached the shoreline (exit 29).
I decided to take a left and head North towards exit 24 to find the perfect spot on the beach.
For information about getting around, check out the link provided!
I drove for quite some time, passing a couple of other campers, until settling down around exit 26a.
I chose the boho way to camp and hitched a tent on the beach!
My campsite is what gave me the impression that this island was so secluded.
Other than the occasional fisherman driving by and the 4-wheeler patrol that passed by my campsite once every morning, I didn't see anyone else the entire first two days while I was on the island. It was so relaxing!
If you want to be near the action, you'll want to head toward the south end of the island, near Cape Lookout Point and the Lighthouse, where all of the attractions are located.
If you're looking for more peace and quiet, then the island's north side (where I camped) is your best bet.
Again, I would highly recommend asking for a Tide Chart (at the ferry office on the mainland) and monitoring it regularly before choosing your campsite.
I got fortunate that I chose the spot I did that day.
I woke up in the middle of the night to the ocean about 5-feet from my tent; just beyond my camping spot, exits 24 and 25 became covered with water during high tide.
I checked my Tide Chart, and luckily, it showed that the tide was at its highest point for that morning.
I would 10/10 recommend making it a priority to review the Tide Chart before choosing your camping spot!
You can grab a Tide Chart (for a month out) provided at the Davis Shore Ferry office.
Things To Do At Cape Lookout National Seashore
After my first few days of relaxing near my campsite, I decided to pack up and travel to the island's Southside.
One of the first things you can do here is observe sea turtles hatching (seasonally); be cautious of these areas as they are blocked off along the beach! You can learn more about the different turtles and reptiles at Cape Lookout National Seashore here!
As I started to get closer to the island's Southside, I could see the lighthouse beginning to appear in the distance.
Cape Lookout Lighthouse is one of the very few lighthouses that are still operating during the day.
With the lighthouse standing 163 feet tall, it's no wonder its light is seen up to 12 miles out to sea!
Unfortunately, due to Covid19, the lighthouse was closed, and no one was allowed inside; however, I've attached the link to the lighthouse's availability/operating hours you can check out.
Another historical site you can check out is the Old Light Keeper's Quarters (known as the Second Keeper's Quarters), built back in 1873; the First Quarter was destroyed.
If you want to learn more about the Light Station, Lighthouse Keepers, or the history of other buildings on the island, you can read more here.
One of the most incredible things (in my opinion) is all of the destroyed and abandoned homes and buildings demolished due to previous hurricanes.
I'm not entirely sure if you are supposed to explore these areas on the island (there were not any signs), but I took it upon myself to explore the inside of some of them.
I have a thing for spooky encounters, and these buildings looked too intriguing to pass up.
Although it was probably dangerous to explore some of these collapsed buildings, it was neat to see the inside of these homes where other families previously resided.
Here is a list of some additional things you can do while visiting Cape Lookout National Seashore:
Explore:
Lookout Point

Lookout Point is one of the most beautiful spots on the entire island (which explains why so many people are on this side). The island comes to a large point, where (at high tide) it becomes completely covered with water; however, throughout the day, it's a beautiful wide-open spot on the island, great for swimming, shelling, and driving through huge puddles with your vehicle!

Boardwalks

Hiking Trails

The skeeters were awful over here, so I didn't explore for long; I do recommend loading on the bug spray if you want to enjoy these neck of the woods on the island peacefully.

Rock Jetty
Gun Mounts
Former U.S. Coast Guard, NPS, & Ferry Docks
Cape Village

There are bathrooms, showers, and informational signs about the island/surrounding islands (this is also where you'll find the rock jetties, gun mounts, boardwalks/nature trails, and different piers/docks)!
Fishing

It's safe to say that 95% of the people on this island are fishermen; it's definitely a hot spot for these guys!

Kayaking & Canoeing

The waves are pretty rough on the open ocean side, so you'll want to head to the sound side to avoid getting washed up onshore (a local told me from the mainland to the island is only about 3-5 feet deep, I didn't try and find out for myself but I'd bring a life just jacket in case, lol)

Beach Strolls

Sunbathing

I got fried walking along the beach during my morning stroll – don't let the overcast weather fool you; put on the dang sunscreen (glad it was my last day)!
I'm pretty positive I was the only one swimming when I went – it was September, and the water was already pretty chilly.

Shelling

Oh, and if you're anything like me and like to collect shells from everywhere you go (it might be a Florida thing?), then this is shell heaven (especially along the Northside of the peninsula)!
Windsurfing

Ever wanted to windsurf? Now's the time, because the wind and waves were wild when I went (considering there were 4-5 hurricanes out at sea while I was there – hence the rain)! Some locals told me that the large waves and strong currents are typical throughout the year, being a few miles out into the ocean.

Beach Driving

Ensure to check out the beach driving rules, follow all regulations, and bring proper gear in case of emergencies!
Be prepared for off-grid style camping as there are no restaurants, gas stations, shops, etc., on the island; bring everything you need with you when you board the ferry.
The ferry companies offer transportation services for any additional items you may need while on the island; however, fees apply.
Here is a list of items I bring every time I visit the National Seashore (these are not in any specific order):
Plenty of FOOD + WATER (extra)
Booze (I can't pass up JuneShine's Kombucha on an island – SO refreshing!)
Kong is also a great item to bring along – it's a koozie + beer bong all-in-one! There are two versions: One for regular-sized cans, like beers, and a tall-sized one for all the basic b*tches with white claws.
Bug Spray/Insect Repellent
Sunscreen (Body + Face)
Yeti Cooler + Ice
Fishing Rods + Bait
Shovel
2×4's (or any plywood) – in case you get stuck
Extra Gas Tank(s)/Can(s) – If you're bringing a vehicle!
Jumper Box
Beach Umbrella
Beach Blanket
Towels
Beach Chairs
Wind Breaker + Rain Jacket/Poncho + Umbrella
Portable Fire-Grill – It's easy, convenient to pack up, comes with a carrying case + strap, and is also a space saver!
Kitchen Utensils
Tins w/ Lids
Marshmallow Roasters + Dandies marshmallows + HU Chocolates – for s'mores, of course.
Gerber Devour Multi-Fork – Need I say more?!
Carabiner Cup – I have two of these, a mini and a large one, and they're GREAT… It's nice to have a cup of coffee and tea without actually having to store the cup; I clip it to my bag!
Four-Sigmatic Mushroom Coffee/Latte/Elixir Mix – I love the instant coffee packets; they're so convenient to make on the go; add to hot water. There are various flavors (caffeine/caffeine-free), so be sure to check them all out!
Axe/Hatchet
Fire Wood + Kindling
Lighter(s) – Windproof + Lighter Fluid
Flashlight(s)/Headlamp(s)/Lanterns/Solar light(s) + String lights for ambiance (I also have the color changing ones).
Games:

Playing Cards (I like the minis/travel ones for storage purposes) – World's Smallest UNO is my favorite!
BulziBucket – A fun, active game for 2+ people, you can use it on land & it floats in water! (Undefeated, BTW)

Sky Roam – Portable Wifi
Speaker (Bluetooth)
Portable Charger(s)
Camelback(s)
Wipes – Multi-purpose, compostable wipes!
Packing Cubes – Helps keep my clothes organized, prevents overpacking, helps me pack more efficiently, & provides easy access to everything I need.
Hanging Bathroom Bag – I love this bag; it has plenty of room to store all of my bathroom/shower supplies, it's waterproof, and I can hang it from trees, in my tent, etc. It also has a removable velcro mirror and a clear storage pocket.
Don't forget to check out the 10 Must-Have Camping Essentials for beginners BEFORE heading out on your adventure!
For more information, I've attached a link to the parks operating hours.
I hope this blog gives you a good feel of what to expect at Cape Lookout National Seashore & prepares you for your adventure ahead!
I would love to hear any additional things you like to bring on your camping trips and some of your favorite locations to travel to! Leave me a comment below; I look forward to exploring with you!