Fact: People who eat healthy soup regularly tend to have lower body weight, waist circumference, and lower odds of becoming overweight. 
But how does that work when it's 80+ degrees out, and you'd rather have a salad? 
Easy! Room temperature and chilled soup recipes. Please don't knock it till you try it! 
Here are two recipes that are great at any temperature. Try these and return in a few weeks to grab my favorite chilled soup recipes. 
Spinach Noodle Soup
Why it's Healthy: 
Soba noodles are naturally gluten free

(as long as the brand doesn't use refined wheat flour; most are made with buckwheat flour. Buckwheat flour is naturally gluten-free.) 

Non-Dairy

Vegetarian

Spinach super food: Spinach is loaded with Vitamin K (bone health), lutein (cognition), potassium (blood pressure), Vitamin C, and fiber.
Why it's Easy:
Ingredients can be found in most regular grocery stores or delivered with online stores

Substitution options if you don't have exact ingredients (substitute quinoa noodles or rice ramen noodles for soba noodles, sub organic, unrefined avocado oil for coconut oil, etc.)

You can serve it hot, cold, or room temperature
Ingredients 
2 Tbsp organic, unrefined coconut oil

8 oz organic mushrooms (shiitake are ideal, but regular mushrooms work well, too)

Thin-sliced scallions (2-3)

1 clove minced garlic

1 Tbsp minced ginger

1 tsp pink himalayan salt or sea salt

4 cups of organic vegetable broth or

Kettle & Fire bone broth

3 cups of water

4 oz buckwheat soba noodles

1 bunch of fresh organic spinach

1 Tbsp fresh organic lemon juice or

1 Tbsp Ingrilli lemon squeeze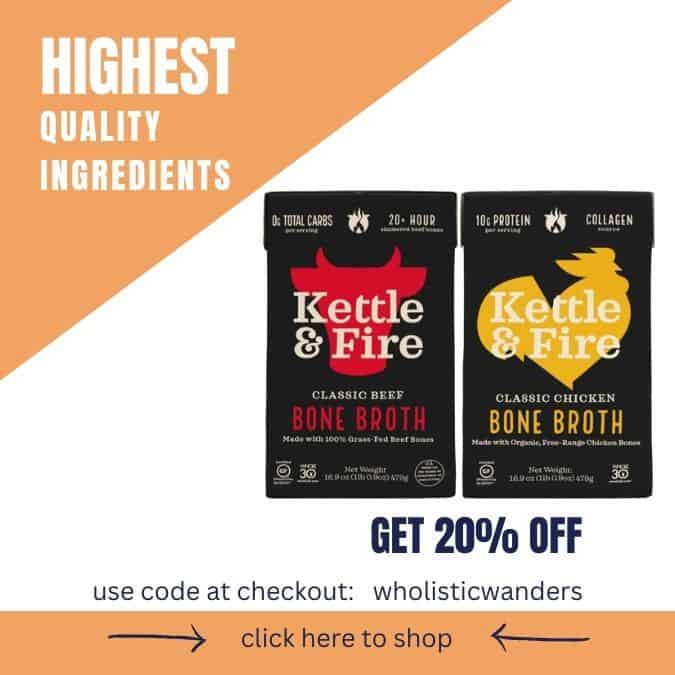 Quinoa Tortilla Soup
(with optional baked tortillas) 
Why It's Healthy: 
Vegan

Non-Dairy

Quinoa is a good source of a number of important nutrients, including folate, magnesium, zinc, and iron

Black beans have a

low glycemic index and they're rich in protein, fiber, and iron
Why It's Easy:
Easy-to-find or order ingredients

Many substitution options for the oil, peppers, and spices

Easy to assemble ingredients

You can serve it hot, cold, or room temperature
Ingredients
4-6 organic

Siete tortillas

, cut into strips or triangles

1 tablespoon organic extra virgin olive oil

1 onion, chopped

2 garlic cloves , chopped

1 poblano pepper , chopped

1 small jalapeno , deseeded chopped

1 tablespoon chili powder

2 teaspoons cumin

1 teaspoon coriander

1 teaspoon smoked paprika

dash of salt and pepper to taste (pink himalayan salt)

15 oz. organic black beans

1 can organic diced tomatoes

2 tablespoons organic tomato paste

4 cups kettle and fires vegetable broth

4 cups water

1/2 cup organic quinoa

1/2 cup organic corn
Pre Soak Black Beans
If you're using dried black beans from a bag, you have two options:
Quick Soak – 1 Hour
Place the black beans into the bottom of a large pot and cover with water at least 5-6 cups of water. Bring beans to a boil for 3 minutes, then remove from heat. Soak 1 hour. After soaking, drain and rinse the beans.
Overnight Method
In a large pot or bowl combine the black beans with water at a ratio of 10 cups of water per pound of dried beans. Soak overnight. 
NOTE: black beans don't need to be pre soaked before cooking, but presoaking makes them easier to digest and reduces overall cooking time.
Veggie Shortcut
If you're not a fan of chopping veggies, pick up a cordless food chopper.  It won't take up a lot of space in your kitchen, it's BPA free, and it's dishwasher safe.
Instructions
Preheat the oven to 350 & chop tortillas into small triangles or strips.

Measure all spices and store in a small bowl

Chop all veggies, removing seeds from peppers. (If you're using a jalapeno, try to chop it by hand. It's a watery pepper and the chopper can make it mushy.)

Heat the oil in a large saucepan or pot. Add the onion and garlic and saute until tender. Add the peppers, spices, salt, and pepper. Cook until the peppers are tender, usually less than five minutes. Add the beans, tomatoes, tomato paste, and liquids and stir together.

Bring the soup to a boil, then simmer for 10-15 minutes. Add quinoa and corn, cook for 15 min or until the quinoa is tender. Keep warm on low. 

Place tortillas flat on a baking sheet, do not overlap.

Bake the tortilla wedges for about 6 minutes, then use tongs to turn the wedges over.

Sprinkle with a little salt, and bake for another 6 to 9 minutes, until they are just beginning to color. Remove from the oven and let cool. 
Serve soup in large bowls topped with tortillas.
And just like that, you've found a way to increase your daily intake of healthy veggies! 
*Disclosure: I only recommend products I would use myself, and all opinions expressed here are my own. My posts, newsletters, social media shares, linktr.ee, news releases and website/blog may contain affiliate links that allow me to earn a small commission at no additional cost to you. In many cases, I can offer my readers and followers a discount with a coupon code at checkout. Read full privacy policy here."