Updated September 8, 2023
Overland Expo is filled with unforgettable demos and features that leave everyone with a wish list and must-haves for their next project, and lasting memories. I met so many cool vendors, overland adventurers, and outdoor enthusiasts; I can't wait to start planning my next adventure!
From off-road demonstrations, mod vendors, adventure guides, educational workshops and tours, the last two Overland Expo events were PACKED with the overland and outdoor legends, experts, and the companies that support the lifestyle. 

I accompanied the Backwoods Adventure Mods team at their booth, where I gave a tour of The Megalodon and showcased some of the Backwoods Adventure products. I attended many demos and presentations and got a ton of inspiration. Product debuts are one of the best experiences…like the debut of the GMC HUMMER EV EarthCruiser at Mountain West. 
In July, the Redmond, Oregon location was perfect for an 'outdoor playground' type setting, a great place for creating a sense of community and hosting adrenaline-pumping activities. Overland Expo Mountain West in Colorado had a rainy start, but we bounced back and carried on with lots of energy. Hopefully Overland Expo EAST gets beautiful Fall weather in the Blue Ridge Mountains.
If you're attending EAST, be sure to put these vendors on your must-see list. I've compiled a small list of the most memorable vendors, and I kept it small to give you plenty of time to fit in other demos and experiences. When I say 'a few', I'm not kidding. I could stretch this out to a list of 50+ vendors, but I'll keep it brief to help you narrow down the list for the EAST Expo. It's a bit overwhelming with so many breakout sessions and demos; it's smart to follow a plan if you don't want to get distracted and miss out on your most important products or experiences. 
Earthroamer 
The Earthroamer booth was a highlight for me considering I've had my eye on one of these bad boys since they first launched. I had never seen one on the road or in person, and these completely lived up to the hype. They had two different sizes at the expo and were straight luxury stocked with everything you could ever need. The attention to detail in these builds was unreal and exceptional. The interior is full of glam and luxury, and the exterior is rugged and badass. They also do test drives at the Earthroamer hub in Colorado, which would be insane to get the opportunity to drive one! (by appointment only in Dacono, CO, just east of Boulder).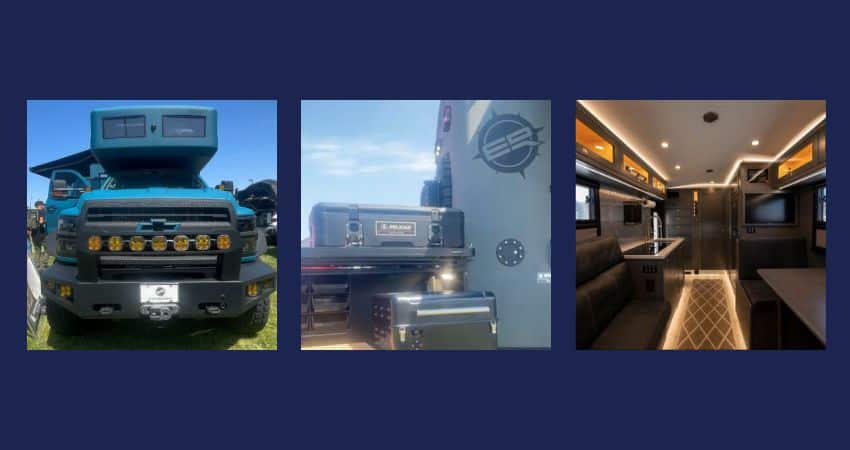 Photo credits WholisticWanders & Earthroamer Instagram
ARB 4×4 Accessories
ARB provides some rad, high-quality 4×4 accessories. I have their dual air compressor on my van, and I use it for so many things; airing up and down my tires, inflating pool floats, tubes, paddle boards, etc! It has excellent air pressure, and having an air compressor system on the road is so convenient and beneficial. They have various products, and it was great getting to see their booth at the expo and more of what they have to offer up close in person.
BareBones Living
Barebones had an incredible selection at their booth during the expo. I have their entire enamelware charcoal dining collection in my van, and I have nothing but great things to say about the set. They're lightweight, extremely durable, and visually appealing. They make excellent dining ware for camp, and I love that they won't break along my travels in the van. Another favorite quality – they don't scratch when using knives or other utensils. Their website says, "…elevate your outdoor experience and withstand all normal rugged wear and tear," and it's true! Not only do they carry awesome dinnerware, but they also have some cool camping lanterns of all sizes that I've had my eyes on for some time now.
Here's the set that I use; it's held up really well and I use it every day.
Garmin Outdoors
Garmin had an impressive booth at the expo featuring a cool setup. They also offered fantastic discounts, which is one of the advantages of attending these expos. It's a great opportunity to find exclusive deals you won't encounter online or anywhere else!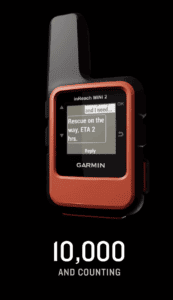 Image Credit: @garminoutdoor Instagram
Two products that really stood out to me were the latest releases in their inReach® Messenger series (satellite communicators) and the Overlander all-terrain navigator. If you're truly "unplugging" from your smartphone but don't want to lose the power of navigation and emergency features, these two devices offer a dependable alternative. They will probably outlast the life of any smartphone.
Kenda Tires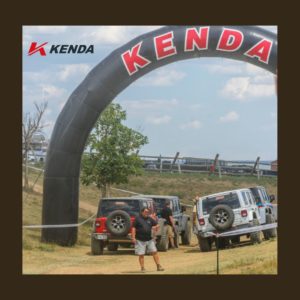 Image Source: Kenda Facebook Post
I got to take a few Kenda Jeeps off-roading on their obstacle course at the Expo, and they handled the system so well! It was one of my favorite booths; the staff was a blast and made the experience enjoyable. The tires were super capable on the trail; I might have to cop a pair for my Jeep this winter! Use the 'Find a Tire' feature on their website to find your perfect match; they offer a lot more than just automotive tires, including bicycle and powersports.
Rustic Mountain Overland Rugged & Trail Ready Trailers
Having an off-road trailer upgrades your entire experience when it comes to long-distance trips and unexpected terrain. Not only are the Rustic Mountain Overland Trailers extremely capable, but they're also lightweight and durable because they're built for rough trails and off-roading. 
I had the opportunity to check out the Patrol XCT Model – It has TONS of great features and options. Trailers don't make road trips or off-roading easy, but if you are going to be in the woods for a while and want to haul in plenty of gear and equipment, the Rustic Mountain Overland Trailers will not disappoint. 
IS THAT ALL? Not even close. But you're in luck! I just released version 1.0 of my Overland and Outdoor Lifestyle Guide. I'll post to Instagram when it's ready for download, stay tuned!
Are you an outdoor, travel, or overland brand? Version 2.0 of my Overland and Outdoor Lifestyle Guide will be available soon, fill out the form on my partners page and learn about featuring your brand.
*Disclosure: I only recommend products I would use myself, and all opinions expressed here are my own. My posts, newsletters, social media shares, linktr.ee, news releases and website/blog may contain affiliate links that allow me to earn a small commission at no additional cost to you. Read full privacy policy here."