(Disclaimer: Since I share companies I love with you, my blog(s) may naturally contain affiliate links. Meaning, when you use my links and purchase something, I earn a small commission at no extra cost to you. You're just doing a good deed and allowing me to continue providing free information to you! It's a win, win, and benefits us both! However, don't worry! Everything I promote aligns with my vision, beliefs, and values. I will never promote products I don't personally use – and love.) 
Looking for a once-in-a-lifetime party bus? 
Rent this exclusive party tub ONLY available in Nashville, Tennessee!
So my best friend since high school got engaged last year (2020), and we planned to go to Nashville for the bachelorette party.
The obvious plans were to rent a party bus, but I wanted to do something a little different; something that didn't involve us exercising on a pedal bar around downtown (which you can do in almost any city) or sitting in the baking sun on a bus during July, one of the hottest months of the year.
As I was in party plan mode, the bride (Courtney) sent me a video on TikTok of this Music City Party Tub, and I was immediately intrigued.
This party bus was something I've never seen before and had "bachelorette weekend" written all over it.
What is Music City Party Tub?
Basically, the best thing to do in Nashville.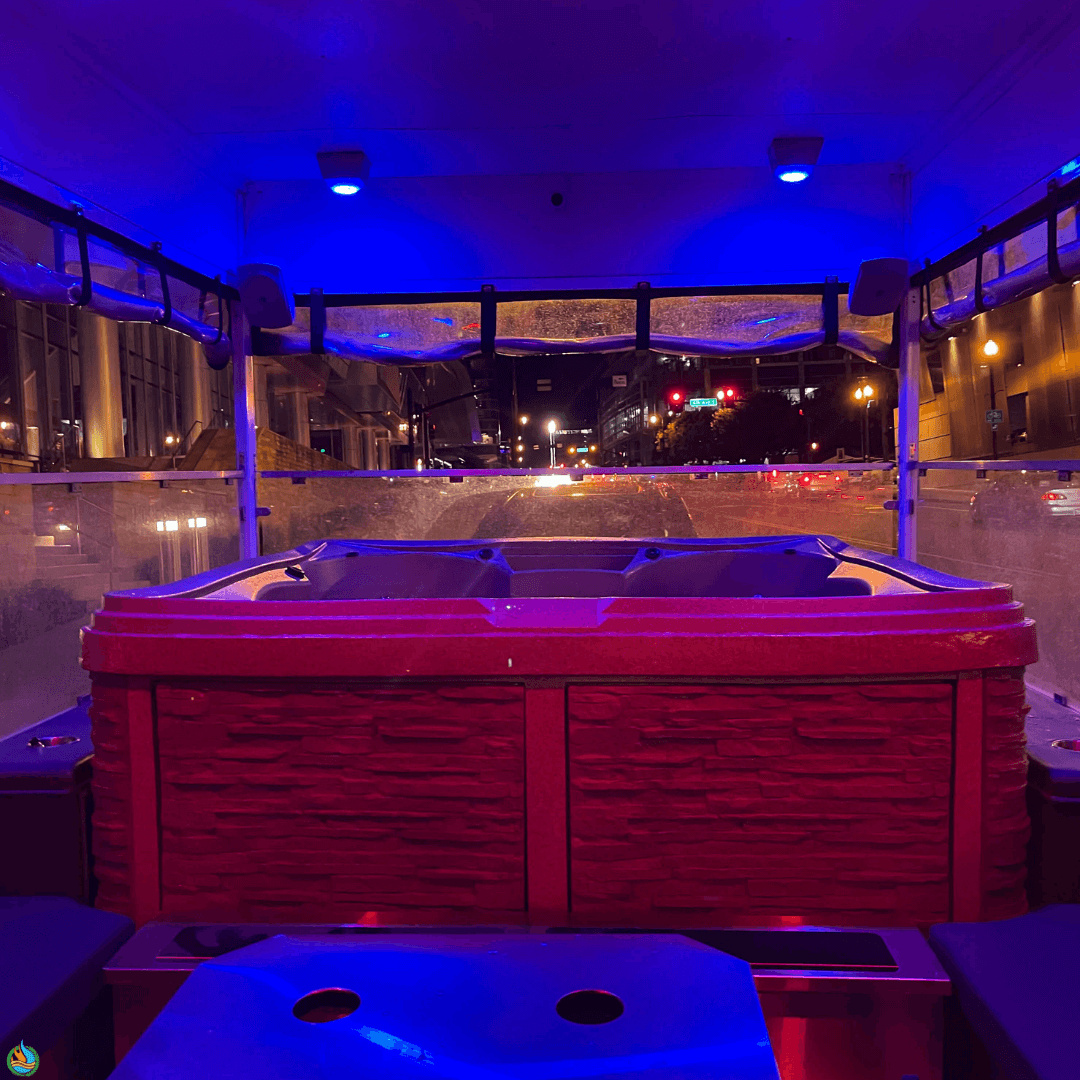 The Music City Party Tub is a private party bus in Nashville with a hot tub/pool and operates year-round!
During the winter months, the tub is filled with hot water, and during the summer, it's converted into a pool filled with cool water; it's the best of both worlds.
The tub is on a partially enclosed trailer attached to a pickup truck that will drive you around the city of Nashville for 2 hours (most of the party buses are only an hour and a half), or you can even add on an additional hour for a discounted price!
Our group ended up getting an additional 30-minute ride because of a technical difficulty with the speakers; no complaints because we got to do another lap around the city! I have to give our driver a thumbs up for A+ customer service.
The party bus also rides in all weather conditions but may need to be rescheduled if the roads are too icy in the winter or if there's bad lighting. Other than that, the tour will go in all weather conditions and even has a roof and windows that can be put up for windy or rainy days!
You can have up to 10 people in your group or add on an additional four people for an upcharge per person!
I had a group of five, and I feel like 2 hours was plenty of time to ride around. However, you may want to consider adding on an additional hour for larger groups so everyone can get a sufficient amount of time in the tub (6-7 people can fit at once)!
Here are some answered FAQ's!
This party bus runs during the day and into the night (the last reservation starts at 8 pm) until the streets are closed off for the nighttime party crowd.
Another unique thing about this company is that they don't require a deposit for your booking; we only had to pay in full at the end of our tour, and we were able to split the cost between our party, it was so easy!
We (a group of 5) paid a total of $525 to rent the party tub for 2 hours; $105/person (although we split it 4 ways because I didn't want the bride to pay), so I guess it was actually around $130/person which I thought was pretty cheap, to be honest.
Also, holiday or large event weekends throughout the year have an upcharge, so be sure to get a quote depending on the dates of your trip!
You can check out any updated or current prices here!
I wouldn't say it was my first thought, but it did come to mind: "How the heck is this legal"?
Apparently, Nashville has some pretty lenient laws when it comes to partying around Broadway and Downtown!
I witnessed this first hand when a cop was behind us on the road flashing his lights and blaring his siren before veering off onto the highway; I guess he was also in "party mode," that's something that doesn't happen often.
No seatbelts, open containers, all while dancing in a hot tub on a trailer… I'll take it.
All I know is Courtney kept telling me that the party tub was by far the most fun thing we did all weekend, which says a lot considering we went to Miranda Lambert's bar like 15 times over the weekend, lol.
Our group had the best driver and bartender.
As I said, this is a private tour, so aside from our bachelorette party, there were only two other people on board: our driver and our bartender.
We were blessed to have the owner himself, Guy, drive our group around Downtown and Broadway while our bad@** server Victoria served us drinks, took pictures, and DJ'd the entire ride!
Both of them were honestly awesome, with so much southern hospitality and a great sense of humor; these people know how to party!
Victoria was a ton of fun to have in the back with us! We kept trying to convince her to get in the pool, but we didn't want to get her into trouble (sorry, V, next time you can join the party)!
Our journey began on our 20-minute walk over to our pickup location, a grocery store called The Turnip Truck.
Upon arrival, we could grab any last-minute snacks and drinks before getting picked up; there's also a liquor/beer store across the street called 12th and Pine.
It's BYOB, so make sure to grab enough for your entire ride; better more than less!
Also, you'll want to arrive 15-30 minutes early to sign waivers and go over a few things, so it doesn't cut into your riding time!
I chose to reserve the latest spot available (8 pm) for our tour because I thought it would be the most enjoyable in the dark, surrounded by the nightlife with music and lights; I was right!
I also didn't want to get too rowdy during the day and not make it through the rest of the night.
Plus, I felt like it may have been a little awkward parading around the town in our bathing suits during the day when the more "PG-Rated" crowd of Nashville (if that's even a thing) was out and about.
Although we did begin the tour during daylight hours, it wasn't long after that the entire vibe had shifted once it got dark out.
Either way, it's a blast, but I would highly recommend booking a tour at night if it fits into your schedule!
I think the first 30-minutes of our tour, we were all in awe by how the heck Guy was maneuvering this enormous trailer through the city of Nashville without side-swiping things; props to you, there's no way I wouldn't have hit anything and everything in sight.
We got to tour around a few different places in Nashville, such as Broadway, Midtown, the Gulch, the River, Music Row, SoBro, and the Nissan Stadium; to be honest, I'm not entirely sure where we went, it was dark, and we were having fun.
One of the only things I think any of us remember is laughing, dancing, singing, and screaming to the crowd and other party buses driving through the town.
Every time we passed another party bus, they would all go crazy over ours; I guess I wasn't the only one that hadn't seen a hot tub on wheels before!
A girl at a bachelorette party on another bus even yelled to us "that she wished she was on ours" – I hope it wasn't the bride!
Halfway through our ride, we stopped for a bathroom break at a random bar/restaurant (from what I remember, it looked pretty nice) in Downtown Nashville.
Our girl, Victoria, handed us bright red bathrobes to put on over our bathing suits.
As we ran through the bar in our robes and headed towards the bathrooms, I've never received such bizarre looks in my life (surprisingly, with everything I've done).
While in the bathroom, a woman handed Courtney $20 and congratulated her on her engagement; our bachelorette group frantically ran to the bar (we were on a schedule) to grab a few shots with our bathroom earnings.
We asked the bartender what we could get for $20 as he laughed and basically told us nothing; he ended up making us a drink and pouring it into five shot glasses to split.
It's a good thing the bus only ran for 2 hours; it would probably be a bit more challenging to find our way home if we rode around any longer drinking; luckily, our driver was generous enough to drop us back off at our Airbnb.
Remember, you are being served drinks for 2 hours straight, so there's no escaping the outcome.
As I always preach, life's about balance; this was a unique experience and one time to go all out!
Courtney has been my best friggin' friend for years, and we've been waiting for this day! We had to go out with one last shebang!
Our tour eventually ended around 10 pm, so we still had plenty of time to freshen up and head out to the bars afterward, considering everything is open until 2 or 3 am. Plus, we had quite the pre-game on the bus, so we were ahead of the game.
If you're digging a good time, you can book your tour here!
Due to it being a bachelorette weekend, I probably brought way more than was needed, but this is the time to get creative and have fun! Here's a list of things I brought and some extra things you might want to add to your list!
Bathing Suits
Extra Towels
BYOB (no glass!)
Cups are provided – We were able to purchase ours as a souvenir for an additional price! If you bring your own, make sure they have lids! I bought light-up cups, and we ended up shoving the cups they gave us inside them!
Koozies/Drink Floats
Funny/Inappropriate Props
Floats/Noodles
Water Guns
Straws
Snacks, Silverware, Plates, Napkins
Your favorite/most fun friends
Cash (to tip your server, assuming they're as great as ours were)
Kong is also a great party item to bring along for the ride! Especially since you can't have glass on board – it's a koozie + beer bong all-in-one! There are two versions: One for regular-sized cans, like beers, and a tall-sized one for all the basic b*tches with white claws.
DJ/Music Playlist (or provide your own)
Bartender/Server
Robes (with hoods, yay)
Towels
Bathroom Stop
Changing Room
Color Changing LED Lights
USB Outlets
Charging Cords
Lidded Cups
Cupholders
Table
Cooler
Ice
Bench Seating (you can keep your bags here too)
Photos & videos throughout your entire ride!
What The Girls Had To Say:
"We had so much fun singing and dancing the night away in the hot tub, the perfect start to our night! Some guy also showed us a giant jar of MaryJ out his car window…"
– Austen R. (Bridesmaid)
"The Music City Party Tub was by far one of the most fun experiences we had while in Nashville. It's a nice change from all of the typical party barges – it's unique, one of a kind, and definitely an attention-getter. I would do it again when I'm back in Nashville!"
– Sydney M. (Bridesmaid)
"Nothing beats countless booze, woos, and off-tune singing in a traveling hot tub!"
– Sara M. (Bridesmaid)
"All I remember is I ran half-nakey through a nice restaurant in a robe drunk, and a lady in the bathroom gave me $20."
– Courtney A. (Bride)
"I would go back to Nashville just to ride around in this tub again; this is my type of party!"
– Megan Adolph (Maid of Honor), aka me
Get Nashty, my friends!
Music City Party Tub is by far the most unique experience in Nashville and the best party bus in the country.
There's no doubt about it; you will be the center of attention around town. There is nothing else like this, so take it as a blessing and enjoy yourself!
I promise you won't regret booking Music City Party Tub for whatever event you're having; bachelorette, bachelor, birthday, girl/guys weekend, divorce party, you name it!
For updates, hours of operation, prices and fees, rules and regulations, and more, visit Music City Party Tub.